A piece of paradise in Portugal
A place of beauty, silence and peace
Seeds of Silence is not just another B&B in the Algarve, it is the ideal time-out location for people seeking peace, relaxation, inspiration and connection. Because being away from everything and everyone for a while sounds blissful, doesn't it? Cindy, your hostess, is happy to share her place of beauty, silence and peace with you.
Seeds of Silence has six double rooms overlooking the green garden with azure salt pool. You can rent the luxury B&B with room and breakfast. Enjoy all that the estate has to offer: the salt pool, sauna, gym, cozy outdoor lounge, honesty bar, places to find rest and places to connect. Would you like to get more out of your stay? Be sure to take a look among our activities and treatments.
Bem-vindo a portugal
At Seeds of Silence, you will stay in the most beautiful region of Portugal: the Algarve. Nature there is enchanting, the lifestyle relaxed and with more than 300 days of sunshine a year, you just can't help but seek the outdoors. You don't need a radio, TV or social media here. The environment is your best company. Unwind completely thanks to the sound of nature and the ocean in the background, while the wind gently plays with your hair and the sun slowly warms your body. Lovely! Our luxury boutique guesthouse is just 5 kilometers from the ocean, beach and Ria Formosa nature reserve. You step into an oasis of peace here. The elegant architecture, bohemian-style decor, and orange and blue accents blend perfectly with the sun-drenched landscape of this region. We instantly fell in love with this place, and we are convinced that it will be no different for you. We would love to welcome you in our B&B.
Food that is good for your body and mind
At Seeds of Silence, we pamper you with an extensive breakfast and brunch buffet that includes freshly baked breads, homemade granola, fresh juices, smoothies, cakes, local cheeses, fresh jams, vegetable spreads and more. The ingredients of our colorful dishes come straight from nature. A treat for the eye… and your taste buds. Our kitchen focuses on honest, healthy and organic food. Everything is crisp, fresh and homemade, allowing us to accommodate vegan, gluten- or lactose-free preferences. You are also welcome to take drinks from our honesty bar any time. You can choose from a wide range of alcoholic and non-alcoholic beverages and record your order in the expense book. You pay cash at check-out. Quick, easy and honest!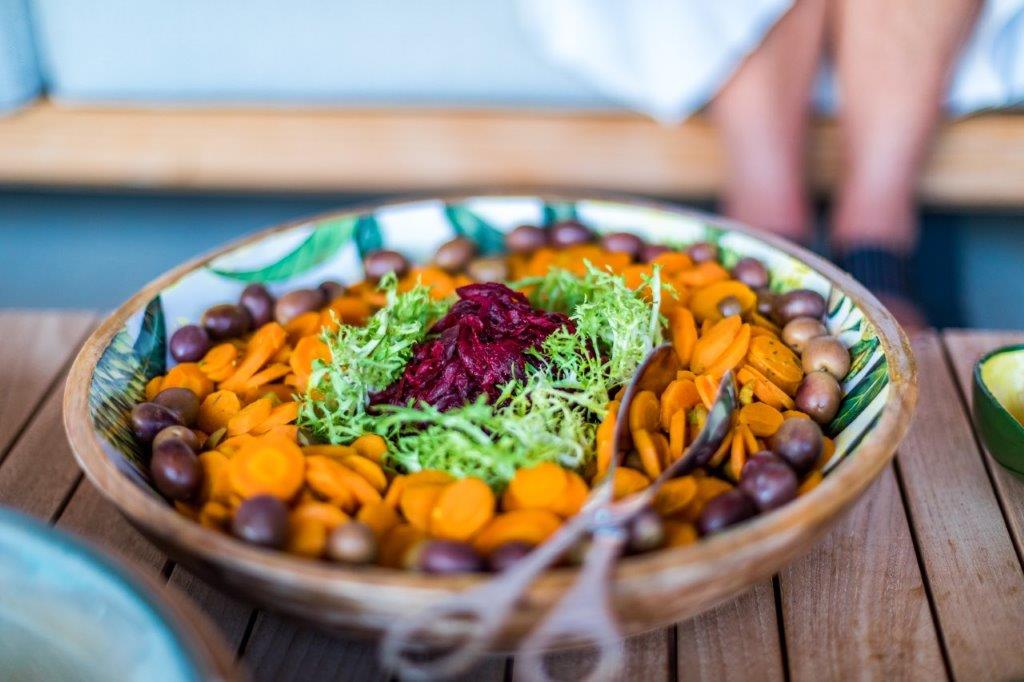 Activities and surroundings
The Algarve, paradise in Portugal
Massages and treatments
Do you want to unwind and take a moment for yourself? As a holistic life coach, Cindy is happy to guide you through relaxing yoga and meditation sessions. Be sure to take a look among our treatments and activities.
Yoga Retreats
Would you like to get more out of your holiday than good vibes and delicious breakfasts? Then be sure to take a look at our luxurious Yoga Retreats. You can stay with us for several days, alone or in a group. These days offer a fine mix of workshops, yoga, sports, relaxation, good food and pleasant company.
E-bike rental
Rent an electric bike and head out to explore the Algarve. The authentic fishing village of Olhão is an absolute must! Beautiful white cottages, a fish market and good local restaurants. Are you more into nature? Then choose the bike trails in the surrounding Ria Formosa nature reserve.
Price: €20 /day
Island hopping
From Olhão you can take a boat to one of the beautiful islands off the coast such as Fuseta, Armona, Desert Island, Culatra and Farol. There is no traffic and you can enjoy the azure sea and white beaches. Nature lover? Then book an excursion with a nature organization to spot seabirds, dolphins and other marine mammals. An unforgettable experience!
Hidden beaches
The Algarve is known for its beautifully inflected beaches. Think pearly white sand combined with azure waters. That's all it needs to be. Our favorites are: Ilha de Faro, Olhos d'Agua, Praia do Barril, Praia da Marinha Fuzeta, Praia de Cacela Velha, Ilha de Culatra, Praia da Falesia, Praia de Benagil, Ilha Deserta, Ilha Calatua, Farol, Ilha Armona and Praia Dona Ana.
What a great holiday so far. Thanks to our host Cindy and her golden tips. It was amazing to meet Cindy. A wonderful woman with a golden heart! The accommodation, the breakfast that kept us going the whole day, the pleasant conversations, the great tips and tricks… We can't thank Cindy enough for making this last week the highlight of our trip.