Recharge Your Soul Retreat
Book from € 1.490
Recharge Your Soul Retreat
Give yourself time to recharge your body and mind
Need to recharge your batteries? Then Seeds of Silence is the ideal place to boost your energy levels. Put yourself first during our Recharge Your Soul Retreat from July 2 to 7 and refuel your energy in the most idyllic location under the Portuguese sun.
At Seeds of Silence, you can recharge in a peaceful oasis of calm. Take a splash in the pool, enjoy an invigorating sauna session, enjoy our fresh organic meals and unwind with heavenly massages and relaxing yoga, meditation, breathwork and mindfulness sessions. Cindy and Katie make sure that you will return home completely reborn.
Price: € 1.490
Single room: €1.655
During the Recharge Your Soul Retreat, we welcome you in our luxurious boutique guesthouse in the Portuguese Algarve together with up to 11 other guests. Truly everything is there to offer you the peace, quiet and relaxation you need: cosy rooms, a swimming pool and sauna, relaxation corners, a professional yoga room, a fitness and honesty bar or use our electric bikes for free to discover the breathtaking surroundings.
Your hostess and coach Cindy will offer you relaxing morning and evening sessions such as yoga, meditation, breathwork and mindfulness every day. What Cindy actively loosens with yoga and stretching will be complemented by Katie's manual therapy. Your stay includes one massage by Katie. Additional sessions can be booked upon request.
During your stay at our beautiful property, you will have plenty of time to explore the wonderful surroundings as well. We will also focus on healthy eating and its impact on your energy levels.
Food that is good for your body and mind
At Seeds of Silence, we pamper you with an extensive breakfast and brunch buffet that includes freshly baked breads, homemade granola, fresh juices, smoothies, cakes, local cheeses, fresh jams, vegetable spreads and more. The ingredients of our colorful dishes come straight from nature. A treat for the eye… and your taste buds. Our kitchen focuses on honest, healthy and organic food. Everything is crisp, fresh and homemade, allowing us to accommodate vegan, gluten- or lactose-free preferences. You are also welcome to take drinks from our honesty bar any time. You can choose from a wide range of alcoholic and non-alcoholic beverages and record your order in the expense book. You pay cash at check-out. Quick, easy and honest!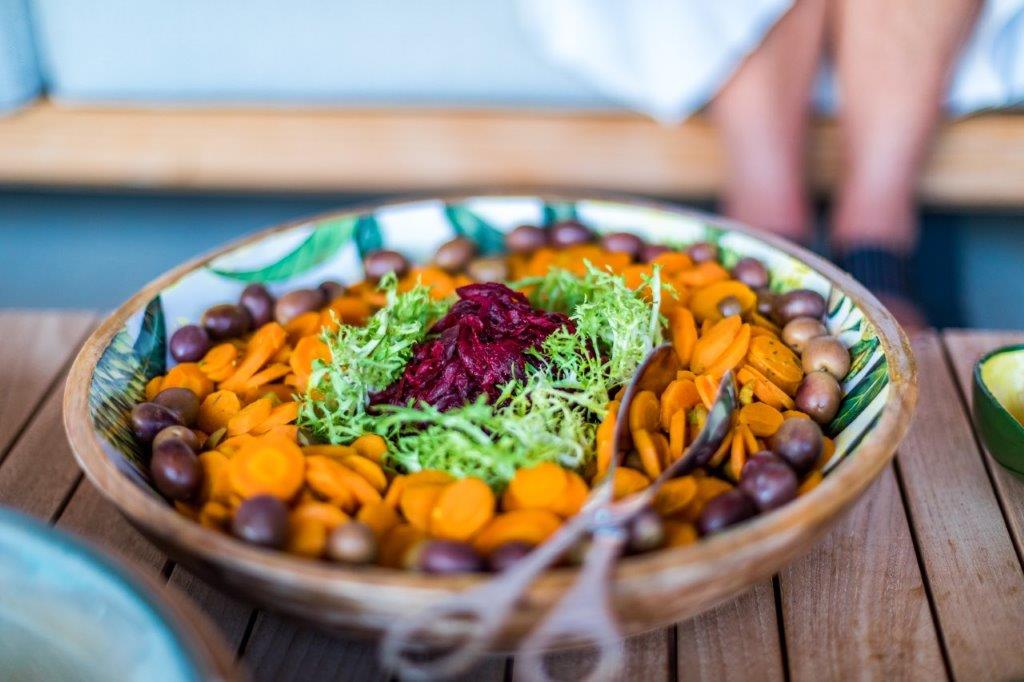 Small Group Retreats
10/09 to 14/09 – 4 nights – starting from € 1.195 (full)
26/09 to 01/10 – 5 nights – starting from € 1.485 (full)
About Cindy
Cindy is a passionate yoga teacher, coach and breathwork professional. Health, exercise and breathing are very important to her. With her classes, Cindy wants to get people moving in the right direction, both mentally and physically.
Cindy uses Yin and Yang, breathing techniques, the five element teachings, Pranayama, Kundalini and Vinyasa yoga. These moments of reflection are an invitation for your body and mind to find your unique strength outside your comfort zone. Every stretch in your body is linked to an energy pathway. With the correct movements and stretches, Cindy will help you lift blockages to allow energy to flow again.
About Katie
Katie uses massage techniques rooted in Chinese medicine combined with her own aromatic massage oils. During her pressure point massage, the energy pathways (meridians) are stimulated. As a result, tensions, stress and blockages disappear and Qi (life energy) starts flowing fully again.
With her heavenly hands, Katie will help you reconnect your mind and body. Her massages not only improve the circulation of energy. They have a warming, relaxing and liberating effect as well. Katie will provide you with the inner peace you are looking for.
Good to know
Date: from July 2 to 7 – 5 nights
Location: Luxury Boutique Guesthouse Seeds of Silence in Portugal's Algarve region
Price: €1,490
Single room: €1.655
You can also book additional days on a B&B basis before and after your Group Retreat. As a Group Retreat participant, you get
a discount of €30 per night
on these extra nights. This way, you can start and end your journey in a calm and peaceful manner.
What are you getting for sure?
Morning and evening sessions (yin yang yoga, meditation and sound healing) by Cindy
Breathwork sessions by Cindy
1 invigorating massage by Katie
1 sauna session with cold plunge pool
Breakfast/brunch and dinner
Coffee, tea and water throughout the day
5 nights in a luxurious double room
Option Single room: €1.655
The sun, nature and silence as your best company
Large heated swimming pool with honesty bar
Use of electric bicycles and gym
Tip: this can always come in handy
An eye mask for our breathwork sessions.
A refillable water bottle.
What is not included?
Flight from Belgium or the Netherlands to Faro. You can fly from Brussels, Charleroi, Eindhoven or Rijsel with Transavia, TUIfly, Brussels Airlines, TAP Air Portugal or Ryanair.
Transfer to and from the airport. If desired, we can provide a driver. The price is approximately €35.
Alcoholic beverages
Additional massages (optional)
Individual coaching (optional)
Reiki level 1 (optional)
Painting your own ceramic pot (optional)
Rental car
Dinner in Tavira (see program)
Boat trip to the islands (see program)
Program of Recharge Your Soul Retreat
I recently visited Seeds of Silence, and it was truly an amazing experience! My friend and I spent 3 days here, and the treatments were exceptional. My friend had a fantastic massage by Katie, while Cindy herself also offered incredible treatments. We practiced yoga with Cindy, which was unique and enjoyable. The peaceful ambiance of the place, coupled with Cindy's warm and friendly nature, made us feel so welcome. The team, especially Denise, the cook, who prepared delicious organic food, and Rosaria, who took care of spotless rooms, were wonderful. We can't wait to return to this tranquil retreat. Highly recommended for anyone seeking relaxation and escapism.